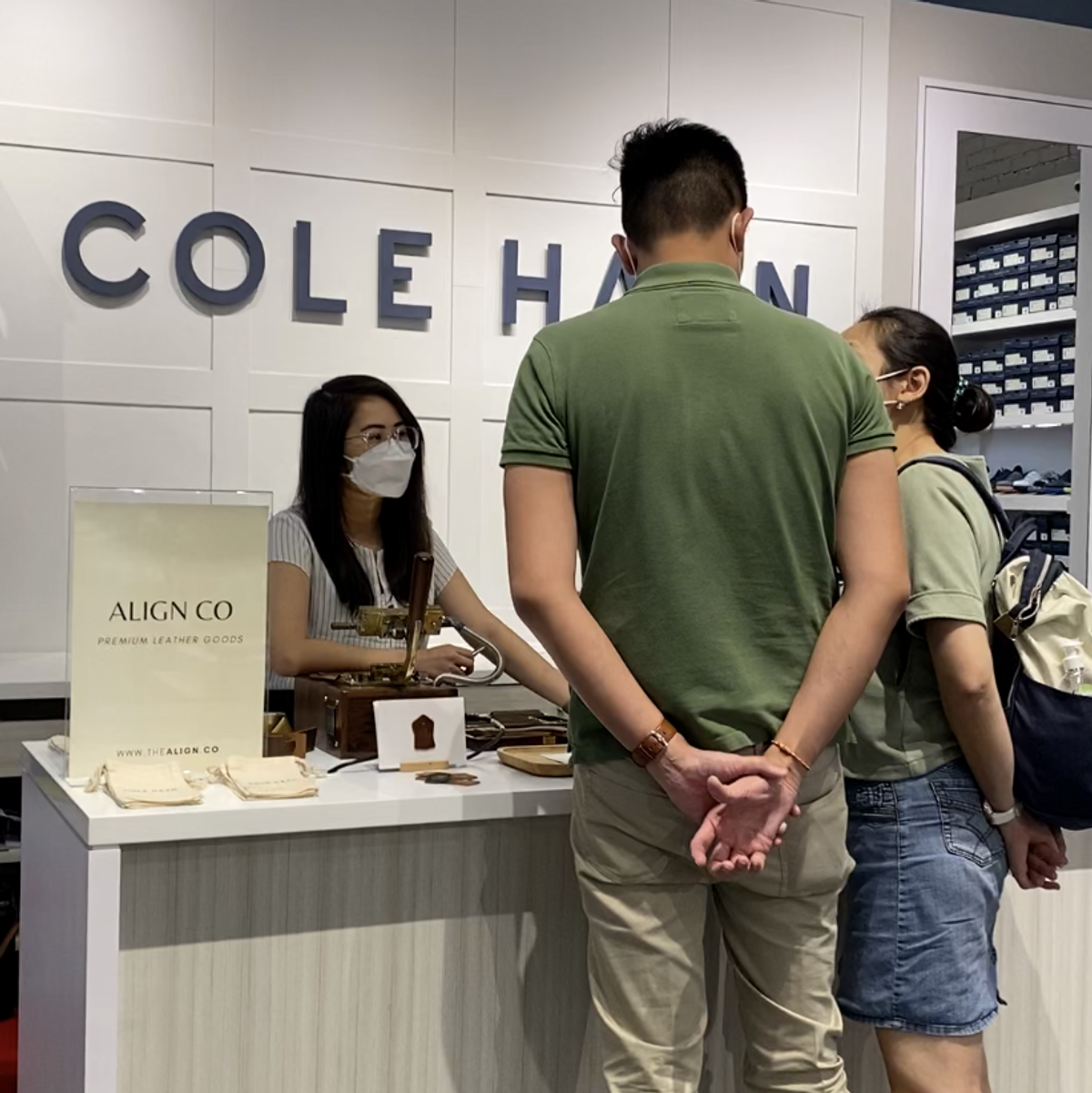 Hello, I'm Eunice, the heart behind our business, where we craft unforgettable moments through full-grain leather goods. Our journey began with a single leather item, a story that started in my university days. Back then, I was on a quest to find the perfect leather journal, but no store seemed to offer exactly what I had in mind. Frustration turned into inspiration, and I decided to craft one for myself. Little did I know, this simple act would set the stage for something much bigger.
Slowly, I became mesmerized by how the perfect blend of craftsmanship, personalization, and individuality could create a beautiful synergy. This realization led to the birth of 'Align' – a name that embodies my guiding principle: aligning creativity, personalization, and craftsmanship to create something truly special.
Our story started with this deep appreciation for the art of leatherwork, and it evolved into a journey of crafting personalized moments that matter. We soon found ourselves at a wedding, where we handcrafted personalized leather luggage tags for each guest. What we witnessed that day was nothing short of magical. I recall the joy on guests' faces as they received their custom tags – these seemingly simple pieces of leather transformed into symbols of connection and cherished memories. It was this moment that ignited our passion for personalization and set us on a path to create something extraordinary.
We've all been to weddings, corporate events, or special occasions where something crucial was missing. Events can be awkward, conversations forced, and connections superficial. As organizers or attendees at these events, we've experienced these pain points firsthand.
That was when I realized that what I do can solve many pain points many of us experience. As organizers or attendees at events in Malaysia, we've all felt the discomfort of awkward moments. We've struggled with finding meaningful souvenirs that actually serve a purpose. We've witnessed the challenge of corporate branding that fails to stand out.
We're here to change that:
Banishing Awkward Moments: We're on a mission to banish awkward moments from events in Malaysia. Our personalized leather items are conversation starters, icebreakers, and memory-makers. They bridge gaps and transform gatherings into memorable experiences.
The Souvenir Dilemma: Tired of receiving souvenirs in Malaysia that serve no purpose? Our leather goods are designed to be used daily – from wallets to keychains, they become constant companions in people's lives. Our souvenirs are meaningful and practical, not dust collectors.
Corporate Branding that Stands Out: Corporations in Malaysia often struggle to make a lasting impression. We solve this problem with our branded leather items. Imagine your brand logo on a high-quality leather wallet that clients use daily. It's brand visibility that truly stands out.
Luxury that Leaves an Impression: Luxury is about quality and lasting impact. Our full-grain leather goods exude luxury. They look and feel premium, making them perfect for corporate gifting in Malaysia that leaves a lasting impression.
Elevating Personal Style: Our leather accessories are not just items; they're expressions of personal style. They complete outfits, adding a touch of sophistication and elegance to everyday looks.
This isn't just a business pitch; it's an invitation to join us in crafting moments that resonate, whether it's at your next corporate event or a personal celebration in Malaysia. We don't just create leather goods; we create connections.
Our portfolio boasts significant collaborations, from orchestrating bulk corporate gifting for top insurance agents at Prudential to creating bespoke VIP experiences for Taylor's University and delivering corporate gifts for PwC. These partnerships have been instrumental in shaping our expertise and deepening our commitment to excellence.
At Align Co, we turn your vision into reality, one personalized masterpiece at a time. Join us on this journey of crafting unforgettable moments in Malaysia, where every piece tells a story of connection, and every connection becomes part of our unique collection.
This is not just a business; it's a movement. It's about crafting moments that become cherished memories, turning leather into a conduit of emotion, and making every event an unforgettable experience in Malaysia. Welcome to Align Co. Welcome to the magic of personalization.
---
Related products