Are you planning a corporate event or looking for a unique and personalised gift for your employees or clients? Look no further than Align Co, where we offer a range of leather personalisation services that are perfect for corporate events and gifting.
Our team of skilled artisans are experts in the art of leatherwork, and we use only the finest materials and equipment to create one-of-a-kind leather products that reflect your brand and message. From cardholders and luggage tags to journals and keychains, we offer a wide range of products that can be customised with your logo, company name, or special message.
Our leather personalisation services are perfect for corporate events, providing a fun and interactive atmosphere for your employees or clients to explore their creativity and design their own customised leather products. Our team of artisans will work with you to ensure that your products are crafted to perfection, using advanced personalisation equipment to ensure precision and accuracy.
In addition to our personalisation services, we also offer a range of customisation options that can help you to create a unique and memorable corporate gift. From custom packaging to branded inserts and accessories, we can help you to create a gift that is truly unique and reflective of your brand.
At Align Co, we are passionate about providing a personalised and memorable experience for our customers. Our unique and customisable service sets us apart from other brands in the market, and we are committed to providing high-quality products and exceptional customer service.
So, if you're looking for a unique and personalised gift for your employees or clients, come and engage us at Align Co. Let us help you to create a one-of-a-kind product that reflects your brand and message and leaves a lasting impression on your recipients. With our leather personalisation services, the possibilities are endless!
Take a look at some of the previous events we've had the pleasure of being a part of, creating unique and personalised leather products for companies and organisations who wanted to leave a lasting impression on their employees and clients.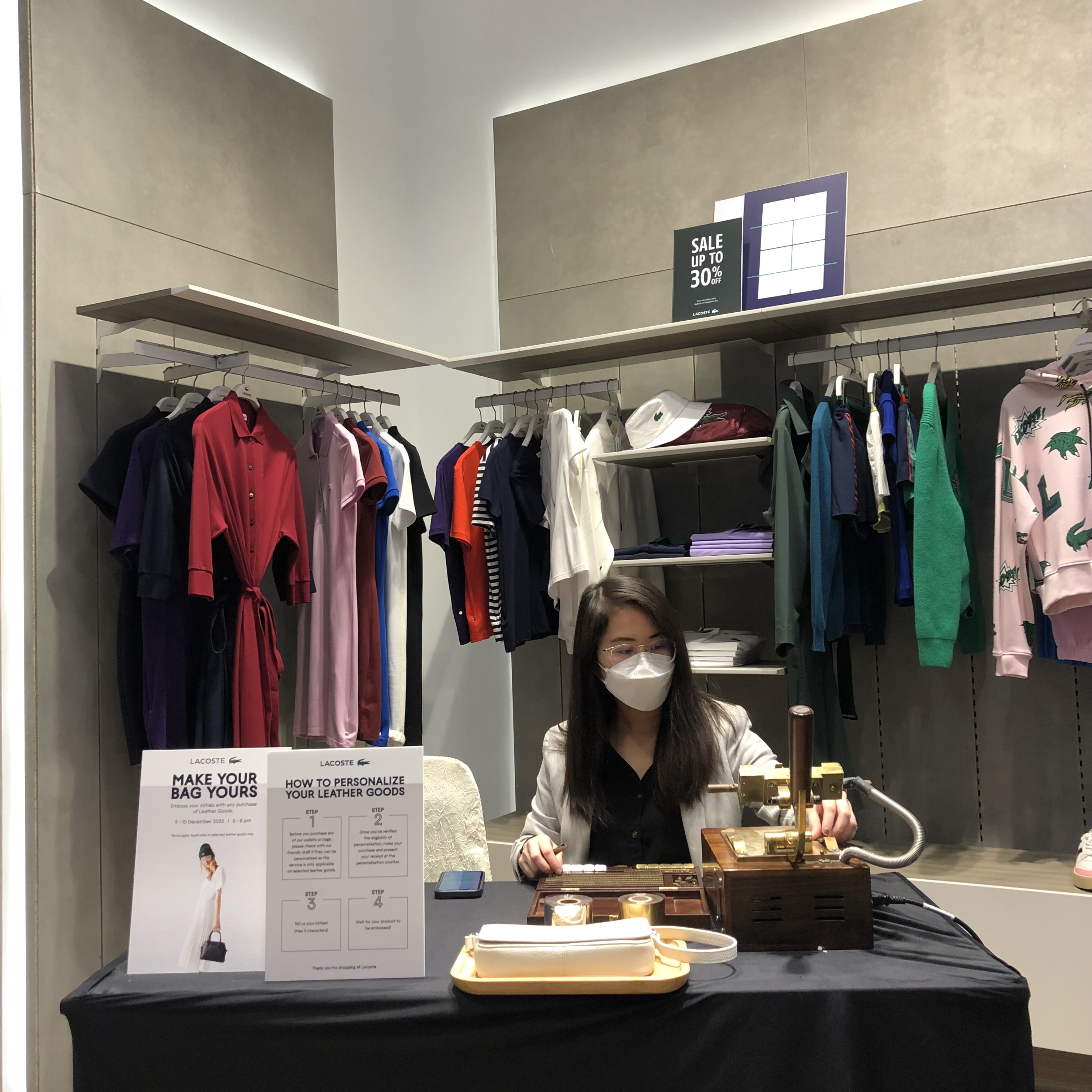 Event: Marketing Campaign by La Coste
Venue: Pavillion Kuala Lumpur
Complimentary personalisation on La Coste leather goods, including leather bags and cardholders, driving traffic and increasing sales with our unique service.
Check out the event highlight here: La Coste Personalisation (Video)
Event: Marketing Campaign by Cole Haan
Venue: Mitsui Outlet, KLIA
Complimentary personalisation on our full-grain leather luggage tags, allowing customers to add their name or initials onto the tags, creating a unique and personalised touch.
Check out the event highlight here: Cole Haan Personalisation (Video)