HOW DO I PUT IN MORE REFILL PAGES?
Check out this handy dandy tutorial image!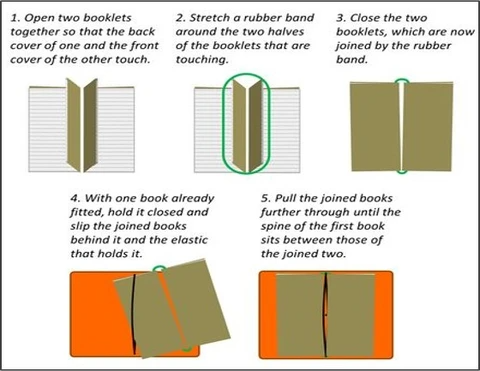 WHERE CAN I BUY MORE REFILL INSERTS?
We will be listing them up soon!
THERE ARE SOME SCRATCH MARKS ON THE LEATHER. IS THIS NORMAL?
Yes! Our products are made of full grain leather (the highest quality leather available) and is not treated with any lacquers or sealants. This way, the leather can "breath" and, if taken care of properly, can last a lifetime. Half the fun of your new leather goods is carrying it around, scuffing it up, and making it as unique as the journeys you take it on. If you are not a fan of the scuffed up look simply wipe the cover with a slightly damp soft cloth. This will remove / lessen the majority of any scratches.